75th Commemorative Booklet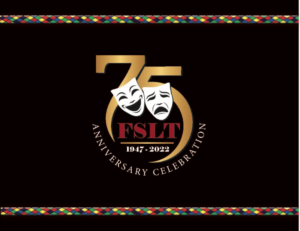 Not only is FSLT fortunate to celebrate our 75th Anniversary, we are fortunate that our volunteers through the years preserved a treasure trove of historical documentation. The amount of information was mammoth, but the research was fascinating! A summarized history has now been published as a keepsake booklet for your enjoyment. We appreciate Calvert McBride Printing and Baptist Health for their financial support for this project. We encourage you to pick up a copy in the lobby or click here to read the online version.
Honoring our "Founding Mother" and Her Descendants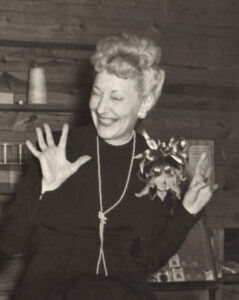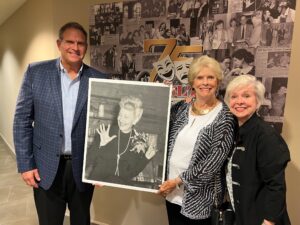 Florabel Kinnebrew Pattee (shown left) initiated the founding of our community theatre in 1947, then nurtured it for the next five years until her family moved out of state. By that time, Flo had given our theatre a firm foundation, and here we are 75 years later! We were excited to locate Flo's descendants and delighted when they agreed to come to Fort Smith to witness Flo's legacy for themselves. It was an honor to introduce them onstage at the Opening Night of Annie, July 28.
Photo: Holding Flo's photo is her daughter Penny Robertson (center), Penny's son Wyman Marshall (left), and Flo's niece Kathy Hostetler (right). Not show is Kathy's husband, Milton.
75th Diamond Bracelet Raffle
Since diamond is the gemstone associated with a 75th anniver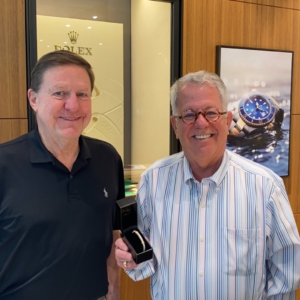 sary, FSLT was excited to celebrate our major milestone with a Vahan Diamond Bracelet Raffle. Raffle tickets were sold in the lobby for 40 performances during our anniversary season. The grand prize winner, David Craig (shown right), was presented the stunning diamond bracelet provided by our generous patron, Kelly Newton (shown left) of Newton's Jewelers.
Walk Down Memory Lane  (written remembrances)
We greatly enjoyed collecting remembrances from volunteers, patrons and their families as part of our anniversary celebration. That compilation of comments was a walk down memory lane!  
Worth A Thousand Words (pictorial remembrances) 
What fun we had looking at our volunteers' favorite FSLT photos as part of our 75th celebration. Backstage, on-stage, cast parties — we shared good times and good memories. The photos were included in a collaborative Facebook album to evoke fond memories and good laughs.
Volunteers Make It Happen (cast and crew photos)
Our success as a community theatre has been made possible by the countless volunteers who have given their time and talent to FSLT. In recognition of all those on-stage and off, we have digitalized all available cast photos since our beginning and made them available on this website for your viewing enjoyment. (Look under the "Shows" tab on the homepage.) We also provided a virtual picture album on Facebook compiling all available cast and crew photographs organized by significant eras of FSLT history. We know everyone enjoyed this tribute to 75 years of volunteers.
And The Rest Is History (the past in print)
In May 1947, Flo Pattee proposed that the Young Ladies Hospital Guild of Sparks Hospital sponsor a theatrical production as a fundraiser. The vote was yes, and the rest is history. Newspaper articles and other historical documents were posted on social media to reveal interesting tales through the years. From stories about Camp Chaffee soldiers attending FSLT productions to a show performed by candlelight when the power went out — there has been plenty of interesting reading.
---
75th Anniversary Sponsor:
The formation of our community theatre was "sparked" by a fundraising project sponsored by the Young Ladies Hospital Guild of Sparks Hospital. As Baptist Health-Fort Smith now continues the legacy of care previously provided by Sparks Regional Medical Center, it was quite fitting to have Baptist Health as our 75th Anniversary Sponsor. FSLT is grateful for their generosity through the years and specifically their support of our anniversary celebration. Not only is Baptist Health dedicated to their patients, but also to the communities they serve. Thank you, Baptist Health!